Social media marketing is critical for all businesses. With the pandemic raging worldwide, most companies have to implement WFH (work from home) for all employees. Companies are outsourcing their marketing and social media work to agencies that are well known in the area of social media. These agencies work on behalf of the brands to promote and run campaigns, products, services, new launches, advertisements and give necessary information regarding discounts and sales.
Digital marketing has increased exposure to businesses and driven their revenues up exponentially. The traffic to brand websites, individual sales, and brand recognition have also gone up, thanks to the effort marketing agencies put in. With so many global social media followers and users, it stands to reason that businesses will capitalize on such a large market. Small and large companies are now shifting their primary focus to capturing their target audiences through social media marketing.
With most people following brands and their products and services on social media, it has become easier to review, refer, and gauge the viability of services online without leaving the comfort of home. In today's world, this is a boon for customers and for brands. Most customers also prefer purchasing from brands that already have a social media presence. This crucial bit is where digital marketing agencies come in.
Marketing agencies work round the clock to improve the social media standing of the brand, increase awareness, organically promote products and services, and enhance the reputation of the brand.
What Makes a Marketing Agency Great?
Have you seen the number of digital marketing agencies in the market? The sheer numbers are astounding! With so many options available, selecting the perfect one can get challenging. Most businesses are smart enough to put money only behind agencies that deliver on their promises.
Let's look at what makes these marketing agencies killer in the social media space.
1. Specialists
It's easy for some newbie to wake up one day and proclaim him/herself an agency. Most of the well-established agencies offer highly specialized services. Some are even focused on a single niche. They understand the ins and outs of the advertising and marketing space on social media so well that they become the Authority in those niches. While selecting a marketing agency for your brand, you should finalize one that offers specialization and is hyper-aware of all the trends.
This awareness need not be restricted only to the niche but to a specialized field of marketing. For instance, if the agency focuses on several niches but does Google Ads and Paid Ads only, selecting them would be a good idea.
2. Personalized Experience
In the digital media space, it is a well-known fact that one size does not fit all. Marketing agencies that roll out the same strategies for all their clients do not get the best results. Also, each client would want something special and unique to their own domain. A personalized approach helps clients differentiate their results from their competitors, thereby adding to the agency's accolades.
When choosing a digital marketing agency, always ask for a personalized strategy that fits all your requirements. Don't settle for something that has been implemented for another client (even if the results are good). There is a chance that the same strategy may not be the best fit for your company.
3. Results-Oriented
At the end of the day, everyone wants a great return on investment. Marketing agencies that are results-oriented will deliver outstanding social media strategies and will implement them flawlessly. Social media campaigns, awareness videos, online digital events, advertisements and more, all take money to run. Investing in marketing is an excellent idea if it gets the results that you want.
You should select a social media marketing company that is known for delivering results. Avoid agencies that over-promise and under-deliver. Also, when making a choice, it is best practice to read reviews from other clients.
5 Marketing Agencies That Are Killing the Social Media Game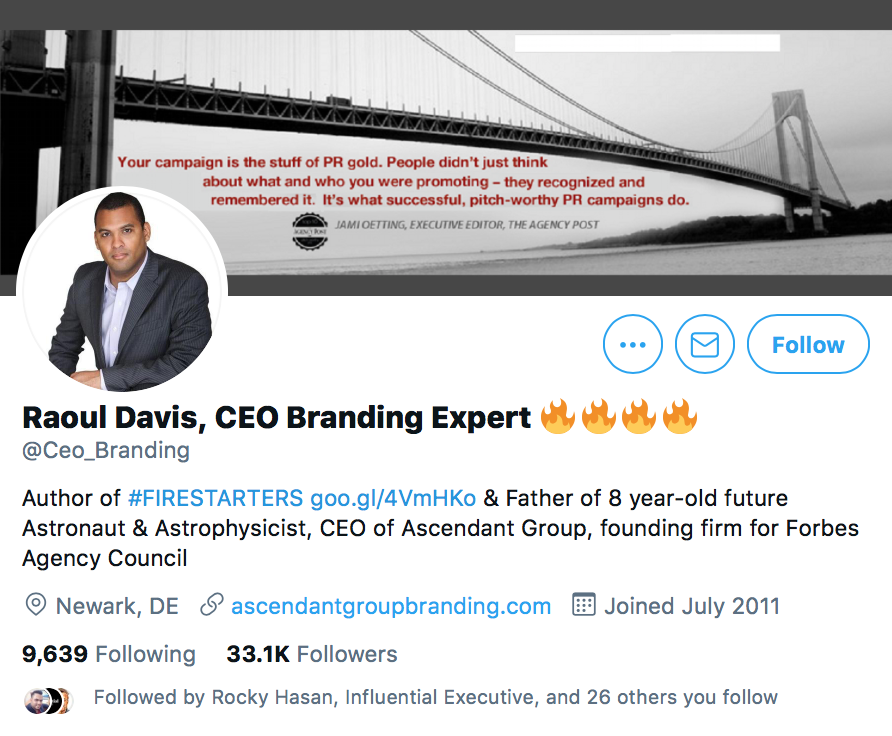 The Ascendant Group was founded in 2004, is a titan in personal branding, and works with CEOs and top executives. Their business model is based on referrals and is wholly inspired by the trust built by years of great work. They work with high-performing individuals from Fortune 500 companies and INC 5000's fastest-growing businesses to help them transition into entrepreneurs.
The Ascendant Group has talented teams that work with professionals from Asia, Europe, North Africa, and North America. They were also awarded one of the top 25 small businesses to work for. They are known for their successful P.R. strategies and campaigns and assist with business expansions and branding globally. Most of their foreign clients rely on them to increase media presence and branding activities, which translates to a presence seen and felt by customers, stakeholders, and potential strategic partners.
They have a work culture built on innovation, competitiveness, honesty, continuous learning, responsiveness, and improvisation. These values are evident with their impressive client list as the Ascendant Group are known for their client strategy and execution.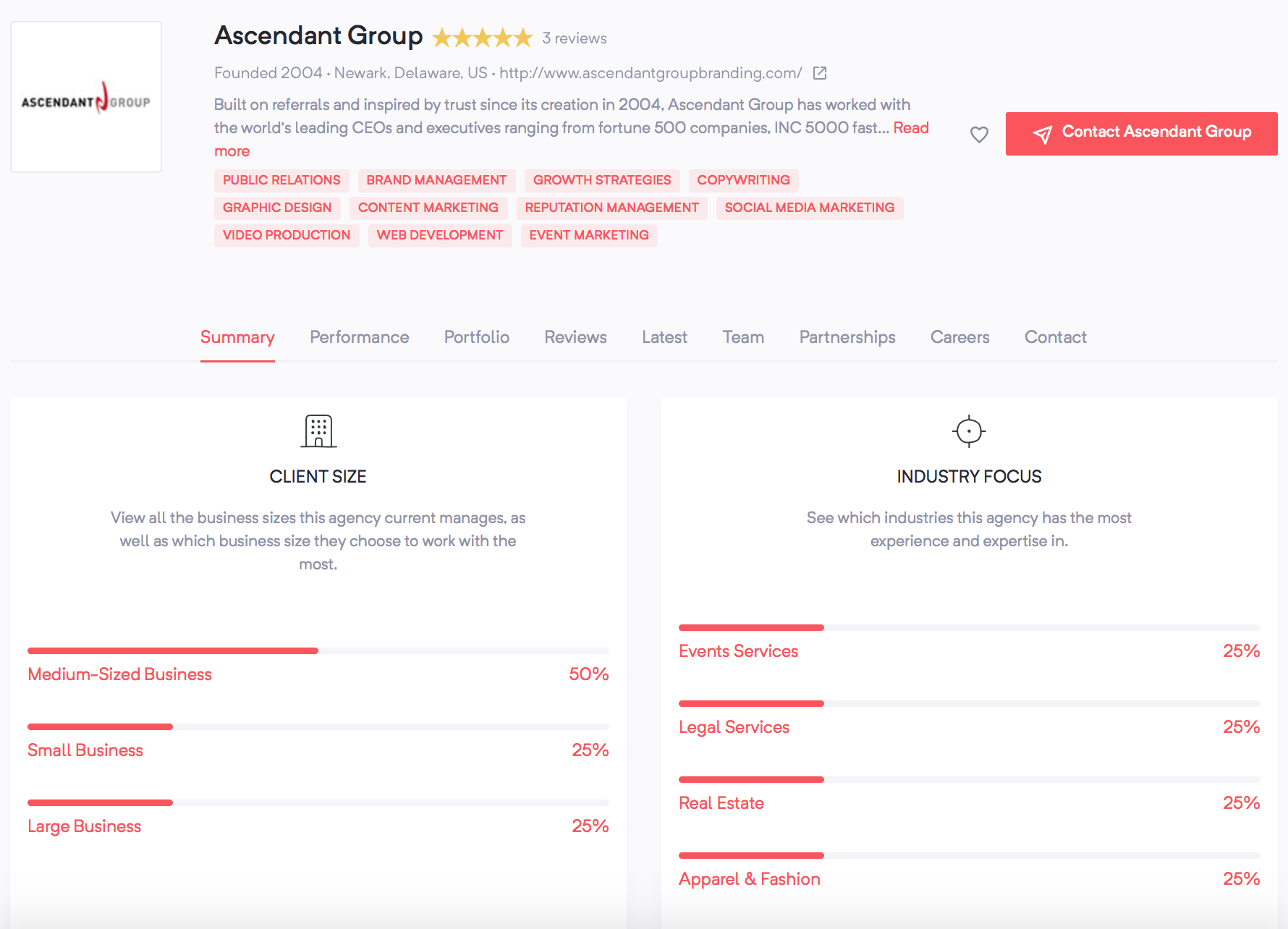 Why They Are Killer on Social Media:
They've perfected the art of blending digital marketing with personal growth and success.
The Social Robin is made up of a team of enthusiastic, talented, result-oriented people. They offer flexible subscription packages without any setup fees. These subscriptions are not contract-based. As a client, you decide which of the offers suit your business specifications and how many team members you wish to appoint. They have different packages based on team experience, and they only hire skilled local professionals.
The team at The Social Robin pride themselves on their communication ability and their promise of quality. They have based their business on redesigning the working relationship between clients and agencies and developing an innovative tailor-made approach.
Their marketing package pricing starts as low as $35/hour (with junior team members) and goes as high as $125/ hour (10-20 years experienced team members). They work with several clients simultaneously in business consulting, social media and advertising, web designing, graphic designing, sales automation, and market research.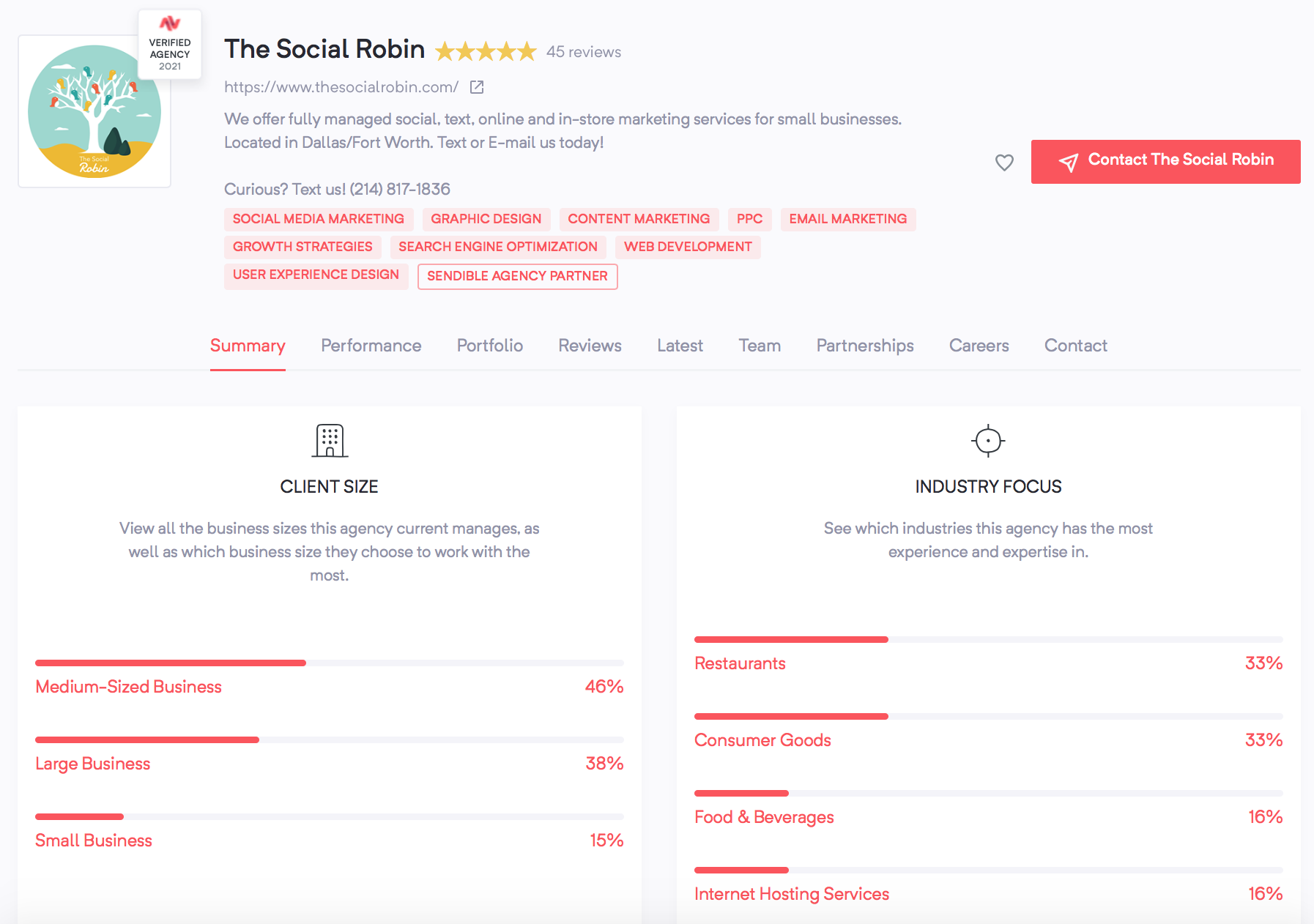 Why They Are Killer on Social Media:
They've redesigned outsourcing expertise and work according to clients' preferred team size, with a high turnaround time. They are excellent at delivering top-quality work.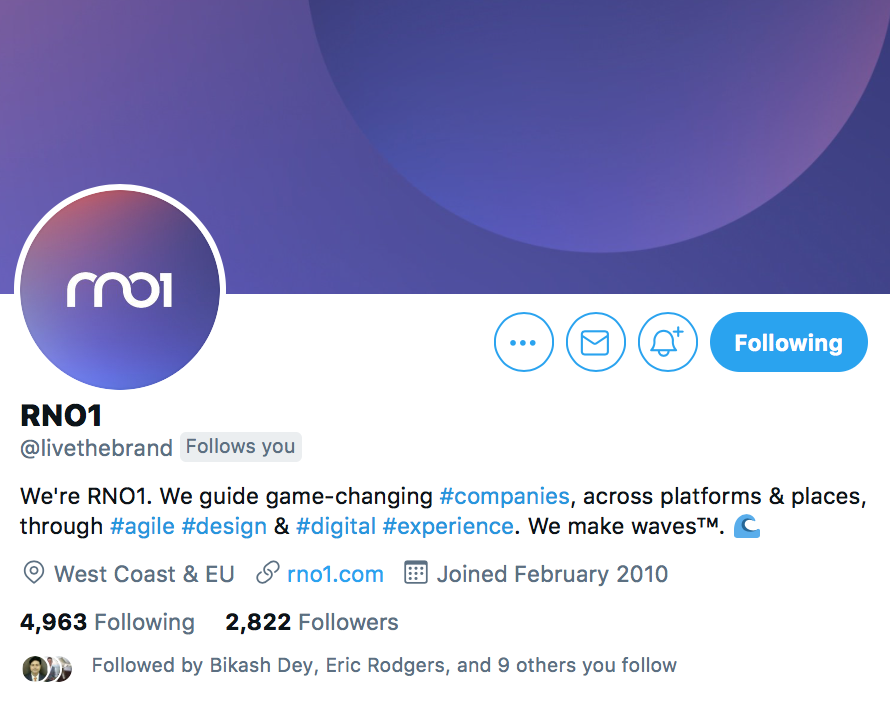 RNO1 is a West-coast brand that prides itself on delivering excellent quality digital experiences to clients. RNO1 has an impressive client list and is actively associated with Microsoft, Opus9, Airbnb, LOLIWARE (which was featured on Shark Tank and got funding from Mark Cuban), Wand (the Uber of cleaning), and Swell, to name a few. RNO1 has its teams in San Francisco, Seattle, Los Angeles, Vancouver, BC, and the European Union.
RNO1 helps reposition brands to become powerful and purposeful with direction and flexible to market needs and demands. RNO1 is known for its rebranding and strategy activation, go-to-market strategies, identity design, functional prototyping, UX and U.I. design, Web and App development, digital platform creation for rapid ROI, and digital activation.
Apart from these, RNO1 is also known for its fabulous e-commerce experiences and performance marketing. It has fantastic team members that work tirelessly on growth strategy, PPC, email campaigns, SEO, and social media marketing. RNO1 also has a successful V.R. (Virtual Reality) and A.R. (Augmented Reality) platform along with mixed reality experiences in mobile and app developments, V.R. platform designs, and V.R. streaming technology.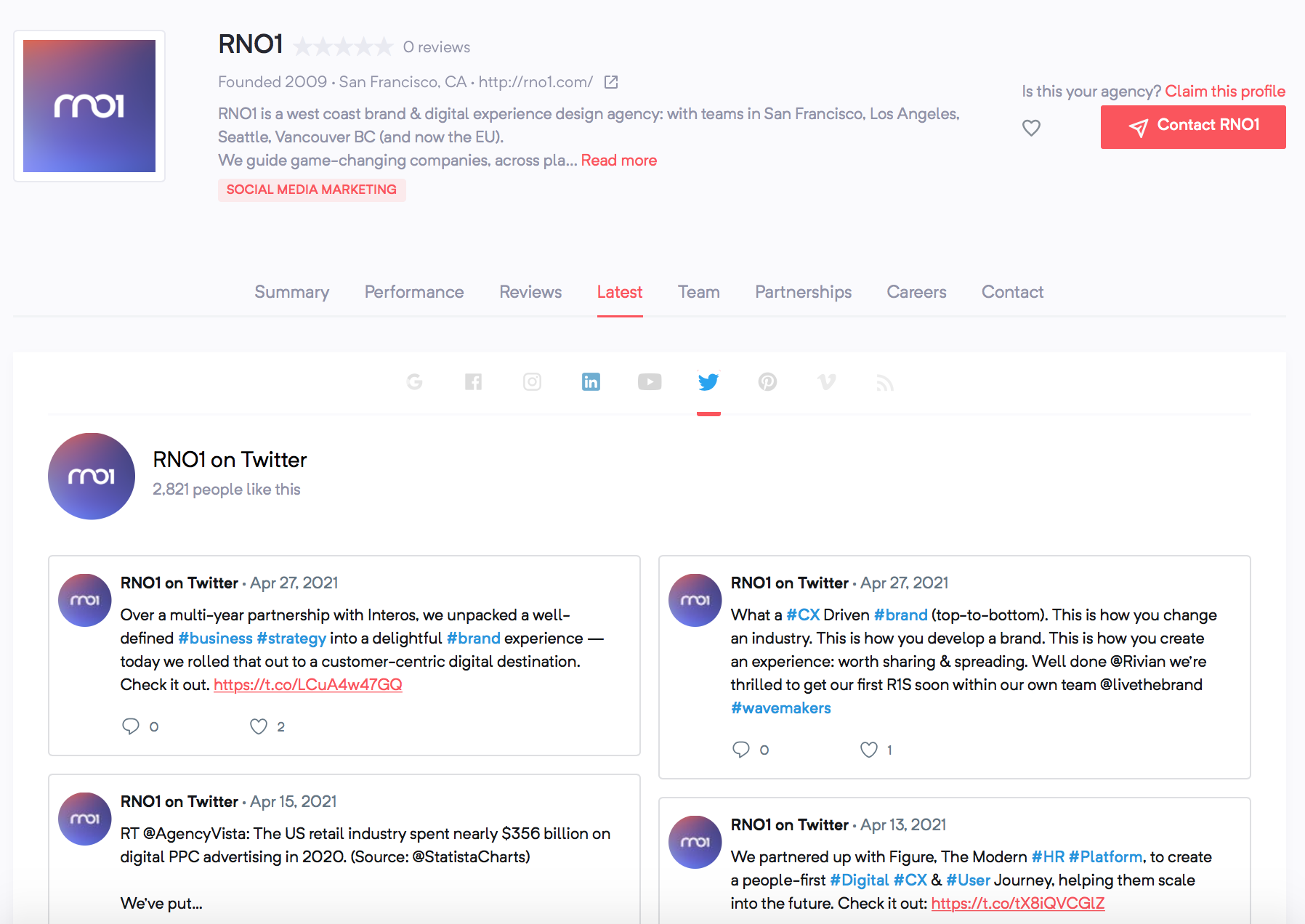 Why They Are Killer on Social Media:
RNO1 is a digital experience design agency that helps make game-changing companies. It offers scalable design and digital teams with monthly billing for fast-moving brands.
Balzac is known for its brand enhancements, sales, and stellar reputation. They leverage nearly 30 years of experience in digital marketing, growth strategy, public relations, online learning, event management, and creative design. Balzac has a diverse portfolio, but they are majorly focused on the industries of Food and Wine and Spirits. Some of their clients belong to the small business scale, but most of their clientele comes from the medium to the large-sized sector.
Balzac is U.S.-based and also has a presence in France. They are client-focused and concentrate on Big Data, Analytics, and Client Management for scalability and growth. They are known for their excellent community management, sales automation, and content marketing in the digital marketing space. They also do exemplary work with SEO, PPC, email marketing, and social media management.
One significant aspect of working with Balzac is their team. The team is vibrant and has a knack for understanding client requirements. The event management team specializes in logistics, design, and event marketing. The creative team is excellent at digital designs, graphics, packaging, advertising, infographics, photography, and videography. Balzac has subject matter experts with a deep understanding of the ever-changing market in the food and beverage space.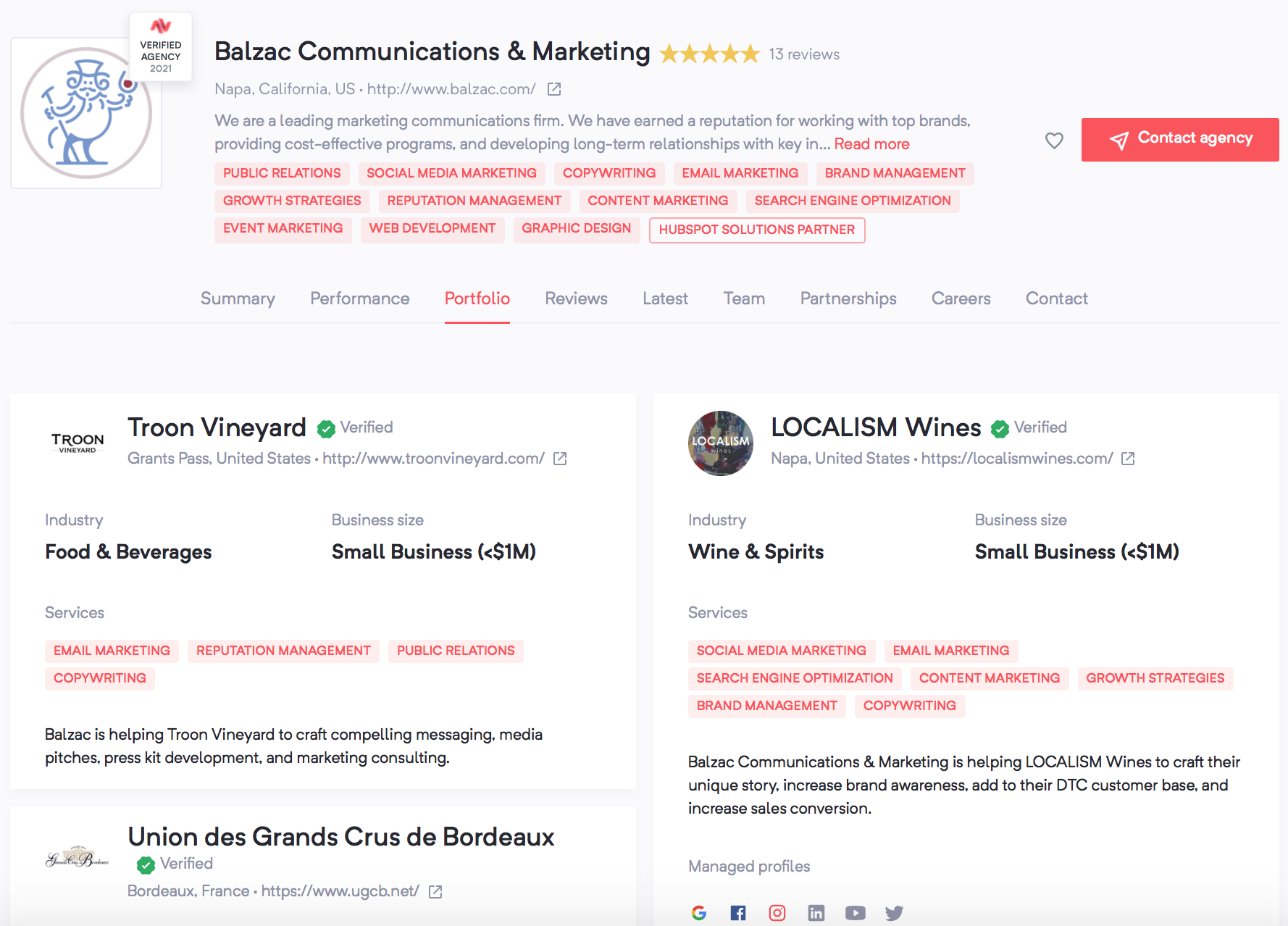 Why They Are Killer on Social Media:
Balzac provides cost-effective programs with a fresh approach to public relations and marketing strategy.
Digitawise is based in Los Angeles, CA, U.S., with offices in the U.K. and Bulgaria. They are a full-service digital marketing company that offers end-to-end services across verticals. They connect brands with target audiences for excellent visibility across digital media. They are known for finding innovative solutions to overcome challenges for their clients. Digitawise excels at getting results and driving value in a saturated market space.
Their marketing services include web design and development, creatives and design implementation, social media marketing, growth analysis, and strategy and consulting. They are also known for their custom packaging and label design. Digitawise has proven its name in the digital marketing space in Google Ads and PPC, SEO, and setting up e-commerce for their clients.
They work with B2B clients and are known to work with a majority of small businesses. Some of the verticals they look into are eCommerce, consumer packaged goods, appliance repairs (website, SEO, PPC, website monetization, and design), sports and outdoors equipment, automotive, beauty and fashion, food, ecig and vape, gambling, and financial. Apart from these major ones, Digitawise also helps clients in the real estate, medical, cannabidiol, health and wellness, and pet niches.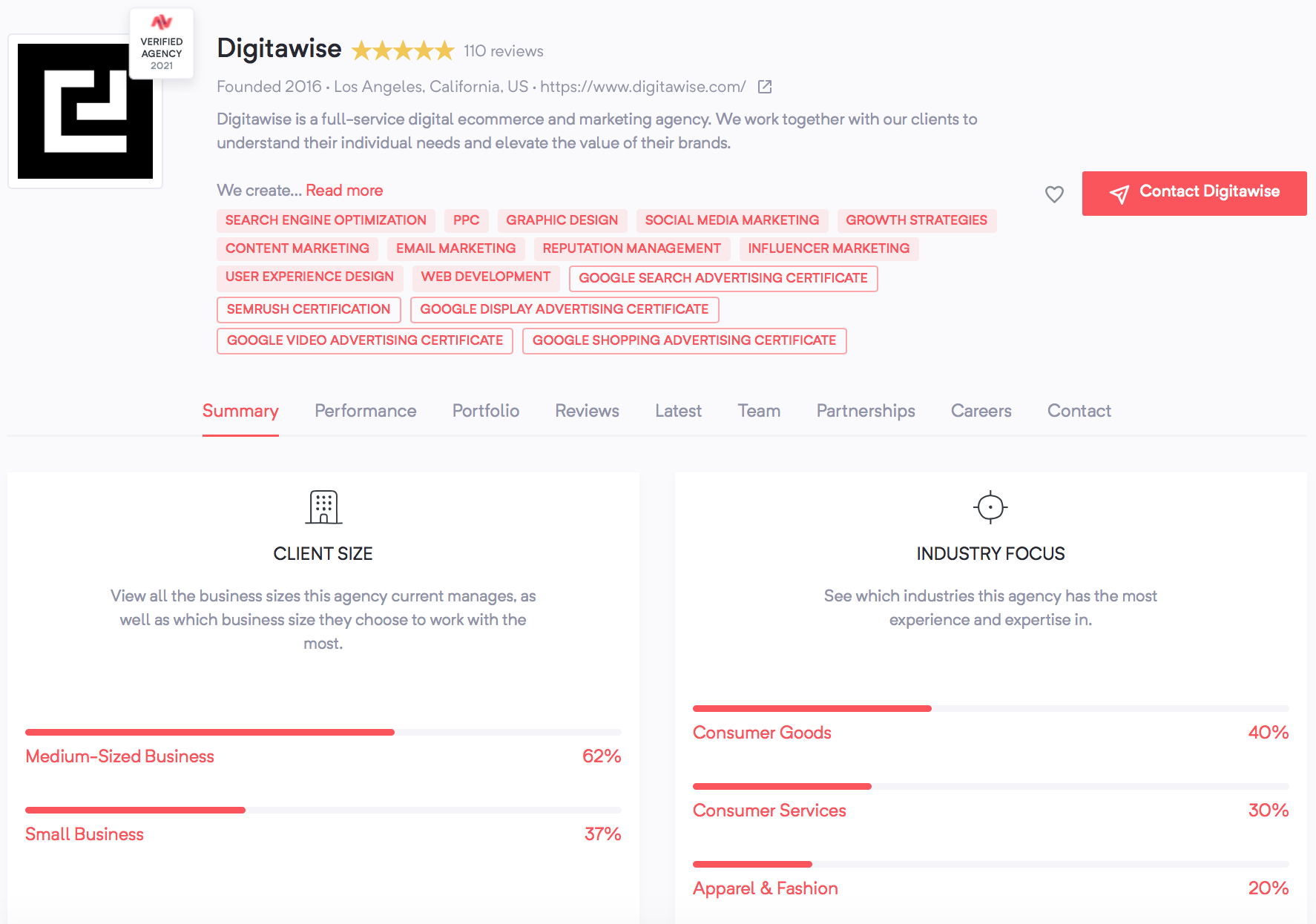 Why They Are Killer on Social Media:
Digitawise is excellent at working in tandem with their clients. They cater to unique client's needs with personalized interactions.
What Should You Expect From A Social Media Marketing Company?
When you finalize a social media marketing company for your business, you should first look at their social media pages. Understanding their target audience, posts, images, and graphics will give you a good idea about their dedication and reach. Reading up on them helps you know how they will collaborate with your business in the long term.
1. Audience Research
Let's face it; no marketing exercise is complete without thorough target audience research. A marketing company that does not speak about the target audience will not deliver on its promises. Audience research helps narrow the target demographic and area of the maximum followers or users for your business. As clients working with social media marketing agencies, most of your potential customers must become long-term ones.
A great social media marketing agency will take time to understand the target audience, the need for your products or services, and how to generate interest in people's minds. Gaining a deep understanding will also help make strategic marketing and budgeting decisions with quantifiable goals.
2. Quality Content
Social media is saturated. With many media companies trying to get a one-up, the content you want can get lost in translation. With so much noise everywhere, it gets challenging to stand out from everyone else. Here is where the social media marketing agency will help. Reputed marketing agencies are used to dealing with a host of issues with target audience penetration and marketing mixes.
Marketing agencies help create excellent quality content with many shares, likes, comments, and re-posts on social media. Creating digital viral content, infographics, short GIFs, viral videos, and a lot more to help spread brand awareness is one of the most basic functions of a good marketing agency. All this has to be done with a healthy dose of innovation.
3. Multiple Social Media Channels
No good marketing agency will ever advise you to stick to only one social media platform. Market segmentation, division, and penetration should be done across all social media platforms simultaneously. Doing this helps build instant brand recognition and awareness. Users will get to see your advertisements, posts, images and will start to associate with your brand across diverse social media platforms.
Utilizing multiple social media channels is compulsory to create brand awareness. Many marketing companies prefer building socially strong videos with hidden meaning for perfect recognition. For example, a video about a stray dog, adopted by a loving household, who grows up healthy and looks towards the light, can actually be an advertisement for eco-friendly lightbulbs. The thought-provoking idea behind adopting pets and not shopping for them forces people to remember the eco-friendly light bulbs next time they are at the market.
You should expect several benefits from working with social media agencies, but you need to be very choosy about selecting the best one for your business needs.
Final Thoughts
Social media marketing agencies should always be reputed and researched. Hiring a marketing agency should not be a burden. It should, instead, have incredible benefits and excellent ROI for your business.
If you are a business and I looking for a marketing agency to help with your marketing efforts I would recommend starting with Find Agency which will be automatically matched you with top marketing agencies or using our Agency Search where you can browse and compare thousands of marketing agencies on your own.
If you are a marketing agency, you can create a marketing agency profile. This profile is free, takes just a few minutes to set up and gives your agency access to Agency Vista ecosystem, and offers a number of benefits in the process such as our Verified Badgeand top rankings in our marketing agency search.
We would love to hear from you! Ping us any time — we're always here to help.